The business of responsible
ship breaking
Ship breaking is not a popular topic as it is often associated with beached vessels in developing countries. Nevertheless, ship breaking practices have become a hot topic in the shipping sector due to recent legal and ideological developments.
At the coasts of Bangladesh, India and Pakistan over two third of all seagoing vessels end up for scrapping. These ship breaking beaches are infamous because of the poor labor conditions and environmental problems. Local workers often have to work long hours and are exposed to dangerous materials during the dissembling process. Furthermore, residual fuel and other hazardous goods, which cannot be reused, are generally left on the beach or dumped in the sea, causing significant damage to the local environment. Even though the bad conditions in South Asia's ship breaking yards are common knowledge, many ship owners still let their vessels be scrapped in this region for financial reasons.
European ship owners have become wary about the legal consequences of a last voyage to a ship breaking beach. In March 2018 and in January 2019, two ship owners were convicted by the Dutch Court for illegal scrapping practices. The court condemned these ship owners of violating the European Waste Shipment Regulation, which forbids the export of hazardous materials from the European Union to developing countries. In both cases the vessels were shipped to South Asia for dismantling. Next to that, the Netherlands has recently ratified the Hong Kong Convention. The convention is aimed at ensuring that ships, when being recycled after reaching the end of their operational lives, do not pose any unnecessary risk to human health and safety or to the environment.
A block lifted from the vessel on a responsible breaking yard in China
Blocks at secondary cutting site awaiting to be cut into smaller pieces.
A cutter with correct personal protective equipment. Photo by Sea2Cradle
As a result, ship owners in the European Union are reconsidering their ship scrapping policy. Will this lead to a growth of the responsible ship recycling business? The Dutch ship breaking company SSN (Scheepssloperij Nederland) has over 25 years of experience in disassembling vessels. Gerben Snoek, Director at SSN, does not foresee an increase of ship breaking activities on the short term. "Because of the strict regulations in the recycling industry, it is expensive for ship owners to let their vessel be scrapped in Europe. Thus, based on commercial reasons, I do not expect a sudden shift among European ship owners to scrap their vessels at SSN or other EU approved yards." On the other hand, Snoek mentions that stricter European ship recycling regulations have led to more awareness in the ship building industry. "Shipbuilders now pay more attention in ship design with regard to the recycling of ship material after its use."
Snoek states that ship recycling is a challenging business: "Ships contain various hazardous materials for which there are strict dismantle regulations in the Netherlands. Therefore, we need to ensure that we possess all required licenses to handle dangerous goods that are expected to be found on the vessel." Furthermore, Snoek explains that supervision of, and communication with, the employees is of prime importance. "Sometimes hazardous goods are found in the ship during the dismantling process. Our employees are trained to handle dangerous goods and to assist each other to prevent any delay of the ship recycling schedule."
Tom Peter Blankestijn, owner of the Rotterdam based company Sea2Cradle, provides ship owners with the necessary service to bring their vessel to a responsible ship breaking party. Blankestijn explains how Sea2Cradle offers responsible and tailor made ship recycling plans: "Initially we investigate all material of the vessel with the concerned ship owner. Thereafter, we search for an EU listed ship breaking yard with the appropriate facilities to accept and disassemble the ship." Sea2Cradle, subsequently, proposes the ship owner with a 'ship recycling plan', which describes how and where the vessel can be safely and environmentally friendly be taken apart. "Not only do we offer ship owners a recycling plan, but we will also continuously monitor the vessel during the dismantling process at the yard", says Blankestijn.
According to Sea2Cradle, one of the largest challenges in the ship breaking industry is to improve the recyclable rate of a vessel. Ships consist approximately 95 per cent out of steel, copper and aluminum which can all be remolded. Furthermore, about 2 per cent of a vessel consists of other material, such as residual fuel and ship inventory, that can generally be re-used. The remaining 3 per cent of a ship's material, such as asbestos and other hazardous goods, is still a challenge for ship breakers. Tom Peter Blankestijn: "Sea2Cradle continuously searches for possibilities to reduce the amount of waste in ship breaking. If a ship weighs 10,000 ton kg, about 300 ton kg will be waste. Each year approximately 800 vessels are scrapped, thus 24,000 ton kg of waste material unfortunately remains on ship breaking yards and scrapping beaches. There is thus still a lot of potential to improve ship recycling practices."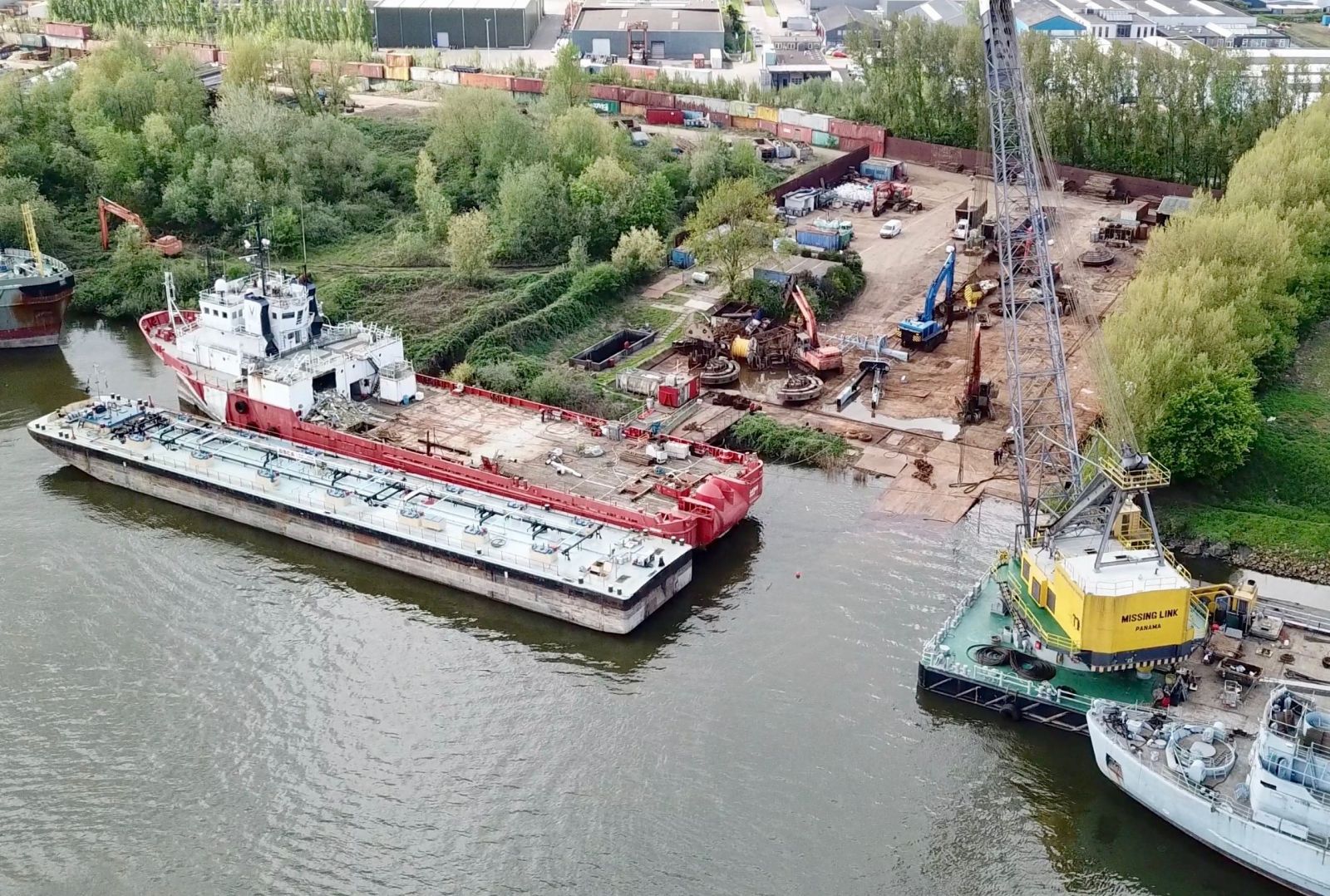 The current European Union and International Maritime Organization ship breaking regulations are for a large part influenced by the International Ship Recycling Association (ISRA). Reinoud Pijpers, Director of ISRA, elaborates how responsible ship recycling has become significant. "Over a decade ago the international legislation concerning ship scrapping were very limited. Moreover, the ship recycling industry has a negative image in the media as it is often portrayed by South Asia's ship scrapping beaches. Therefore, a group of ship breaking companies started to work together to promote the environmentally sound and safe recycling of ships." This cooperation led to the creation of the The Hague based International Ship Recycling Association in 2007. Pijpers: "In the beginning the ISRA was mainly focused on improving working conditions and waste management at ship breaking yards. Now we work closely together with international maritime institutes and organizations to monitor ship recycling regulations."
Reinoud Pijpers states that reflagging is currently the largest problem in the ship recycling industry. To avoid juridical persecution, ship owners generally sell their dated vessels to an international ship broker, commonly known as cash buyer.
These brokers change the name and country of registration of the ship and, subsequently, sell the ship for a large profit to a South Asian ship yard. Pijpers: "Due to use of intermediaries, it is hard for the EU, IMO or other global institutions to hold ship owners accountable for the last voyage of their former vessels."
On the other hand, Reinoud Pijpers also notices a recent change in the ship breaking sector. "Sustainability and the corporate image are becoming increasingly important." In 2017 three Dutch banks founded the Responsible Ship Recycling Standard, which requires ship owners to demonstrate the how they will finance sustainable ship demolition before being able to receive a loan for a newbuilding vessel. Furthermore, ship owners associated with scrapping beaches in Bangladesh, India or Pakistan, can expect negative backlash in social media. Whereas ship owners who promote responsible ship breaking may receive public support for their environmental policy. "Recent convictions of ship owners by the Dutch Court will not immediately alter the current ship breaking industry. However, enforced ship scrapping regulations by EU member states can trigger more European ship owners to consider responsible ship recycling", concludes Pijpers.
Marnix Viergever