The vision of Arie van Andel



'Oceanco cannot do it alone, we need
a strong Dutch maritime cluster'


The yachting industry is a world of high expectations. Only the best is good enough and the yachts have to be equipped with the latest developments. Oceanco knows this better than anyone. "Quality and innovation are core values. The company and our clients have a strong vision of what they want. This combination results in the finest yachts available," says Arie van Andel, Chief Technical Officer at Oceanco.
Oceanco is relatively young, with facilities and offices in Alblasserdam, Zwijndrecht and Monaco. The company was founded in 1987 and specialises in the design and construction of superyachts ranging from 80 to 140 metres. "Our youthful appetite has made us strive further, for better. This resulted in numerous industry firsts and realizing the world's most complex and large yachts."
Transparency
Although you have to pass a security post before entering the premises and filming and photography are prohibited, there is a feeling of transparency and professionalism. This shows most in the reception area where you can look straight into the dry dock where work is being executed on the latest yacht under construction.
Throughout the building, large scale models of Oceanco yachts are on display. The interview with Arie van Andel takes place in one of the board rooms on the top floor, overlooking the world-famous windmills of Kinderdijk. He explains that innovation and quality are Oceanco's raison d'être. "It is our lifeline to the future. We can only exist because we excel in both product and production innovation."
And although the windmills catch the eye, the room also overlooks the Drechtsteden region, the home of a strong maritime cluster. "We aim to be one of the most innovative yacht builders out there, but Oceanco cannot do it alone. We need strong innovative business partners and a strong innovative maritime cluster."
The yachting industry has a special place in the maritime ecosystem, but Van Andel does not look at the differences, he focuses on the similarities. "A large part of the maritime industry works on a business to business basis. In that respect we are different; our business is far more personal. But we all start with a large plate of steel," says Van Andel with a smile.
But before the steel plates it starts with a vision. "Clients chose Oceanco because we can build the perfect yacht that they envisioned. We can translate their vision into a design." After the design process, Oceanco strongly believes that the client should stay involved. "We do our best to make the client a part of the project, giving him the experience of building a yacht." The personal commitment has results. "As we say; the perfect yacht can only be the perfect yacht when it is the owner's perfect yacht."
Bravo Eugenia is the first Oceanco to utilize its innovative LIFE
(Lengthened, Innovative, Fuel-efficient, Eco-friendly) design.
LIFE revolves around intelligent naval architecture that leverages a
number of fundamental principles, which create a balance between
weight, power, technical areas and luxury interior on board. Photo by Oceanco
One of the yacht models in the room is of the Black Pearl. She is a fine example of the cooperation between our client and us. "The client wanted a sailing yacht that could cross oceans without burning any fossil fuels. "Normally the design process of a yacht starts from an esthetic point of view, followed by naval design. With the Black Pearl it was different because the sails on the yacht were leading in the whole design process. That was new for us," he says.
Because the square metre area of sail determine the length of the yacht, a lot of time went into developing the sail plan. Since the Black Pearl is 106 metres long, the sailing yacht has 2,900 square metres of sails, divided over three 70 metre masts. Amazingly, the sails can be set in seven minutes. Dykstra Naval Architects designed the DynaRig carbon masts and sailing system.
Dykstra Naval Architecture just one of the external parties involved. The Black Pearl is the result of a collaboration on the part of a group of designers, engineers, naval architects, builders, and project managers.
"At Oceanco we do not use the word suppliers. We refer to them as co-makers. That says something about the commitment and trust we have in each other."
When it comes to innovation, Van Andel believes that the focus of Oceanco should be outwards instead of on in-house inventions. "Of course, we do have R&D and innovation expertise in-house, but we do not have a separate R&D department here," he says. "We believe in innovation through collaboration. We know the market and know what kind of new developments are out there. When it comes to innovation a company that relies on very different technologies like Oceanco cannot be as agile to develop everything itself."
As an example, he describes a technology that the company used to make it safer for helicopters to land on deck. "This innovation was developed for the offshore industry and we further developed it together with our partners into a solution suitable for yachts. "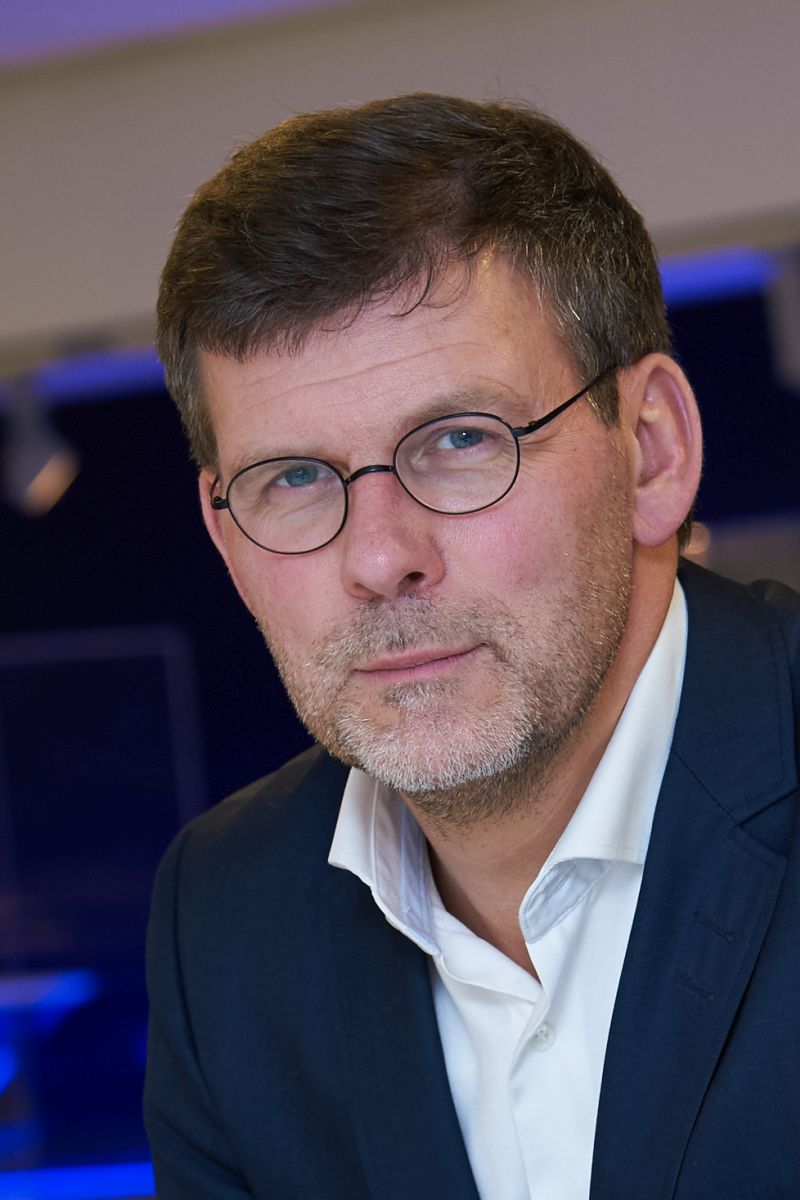 Name:
Arie van Andel
Date of birth:
22 April 1966
Family:
Married, 4 children
Leisure Time:
Hiking and sailing
Education:
Mechanical Engineering & Business administration
Professional experience:
Various management positions in the shipbuilding industry on engineering, project management, production and currently Chief Technical Officer
Sustainability is another drive for innovation. "We notice that clients, employees and stakeholders really want yachts and the building of yachts to be more environmentally friendly." That is why Oceanco started with the LIFE-Design program. Life is an acronym from the words lengthened, innovative, fuel efficient and eco-friendly. "The LIFE-Design not only adds an elegance to the yacht, but also leads to a reduction in the overall demand for propulsion power. As a result, the engine room is condensed to a single tier – a rarity in large yachts.
This affords additional room for lifestyle areas – particularly on the lower deck, where space is usually restricted." Oceanco's recently delivered 109-meter motor yacht, Bravo Eugenia, is the company's first LIFE-designed yacht. Bravo Eugenia was developed with an optimised hybrid propulsion system that utilises the latest energy-saving technologies.
Not only is this pioneering system extremely powerful, it is also environmentally friendly, boasting a reduction in fuel usage of up to 30 percent, compared to an average or similar yacht with an equivalent volume. She meets all existing ECO notation requirements and is able to operate in all emission control areas thanks to its diminished emissions. Additionally, an exclusive 'whisper mode' has been built in to ensure surrounding yachts are not disturbed, by entering and exiting ports in battery-mode.
The continued focus on innovation has paid off. Bravo Eugenia has set the new normal in super yachts and won the Explorer Award on 28 March at the Yacht Club of Monaco. Prince Albert II presented the award in the category Technology and Innovation to Marcel Onkenhout, CEO of Oceanco — who accepted the award on behalf of Bravo Eugenia's owners. "This award shows we are on the right track in our mission to deliver innovative and environmentally friendly yachts," concludes Van Andel.
Jaap Proost
The Black Pearl is a complex sailing yacht and the result of an elaborate collaboration on the part of an international group of designers, engineers, naval architects, builders, and project managers.s.